Kingpin of the Cultural Cartel
This is just an idea that I had which may or may not ever come into use for a timeline I may or may not someday write. But for those who don't know, what we now call STV (the
S
ingle
T
ransferable
V
ote) was developed in the mid-nineteenth century in the United Kingdom, and by the end of the century it became very popular with advocates of electoral reform, and was strongly associated with the British Empire in particular (leading to the term "British Proportional Representation" to describe it). Under the name
Hare-Clark system
it was introduced to Tasmania in 1896. (Even today, when many British politicians and reform advocates refer to "proportional representation" - they are talking about STV, and STV is largely used in Anglosphere countries.) I had the idea to combine it with another popular late-nineteenth-century fancy - the Imperial Federation. So my concept is that the "lower house" of the Imperial Parliament (which I call the "Assembly") elects MIPs under representation by population to multi-member STV constituencies. But how to shape these constituencies? What should their size be? Some guidelines:
- Unless the top-level division (say a province in Canada, a state in Australia, etc.) a constituency serves is insufficiently populous so as to support three members, this should be the minimum, so as to allow a minority voice to represent its constituents. (There's a rich irony here that we'll get to later.)
- No constituency should return more than one per cent of the total Members of the Imperial Parliament. This makes for a nice guideline as to the size of the Assembly itself. It needs to be a multiple of 100 to allow constituencies to elegantly comply with this rule. My suggestion is 700 seats total - slightly higher than the UK Parliament in the early 20th century so of comparable size but not unyieldy, and it means seven is the maximum. Therefore, all constituencies should return no fewer than three members (though some will return two or only one - elected by AV - by necessity) and no more than seven.
- Because of this flexibility, constituencies can more naturally adhere to logical borders. Counties, cities, districts, shires, wards, etc. Nowhere is this more clear than in my proof-of-concept for this project, the County of London.
The population of the Imperial Federation which is the basis for apportionment is derived from the first censuses of the 20th century. I've included all of the pre-WWI White Dominions - yes, South Africa too - though (in classic "white man's burden" logic), those in charge of such things decided that the electorate should not include "insufficiently civilized aboriginal peoples". In Canada, Australia, New Zealand, and Newfoundland, these are a minority. In South Africa they are a large majority, greatly reducing South Africa's representation in the Parliament relative to its total population. But this is the price you pay when you won't enfranchise your people. (Of course at least in theory the plan is for these people to be "civilized" and gain representation in the Imperial Parliament. In theory.)
Therefore, with 700 seats, the following populations can expect the following representation in the Assembly:
England
(incl. Wales) - 32,527,843 (432)
England proper - 30,512,831 (405)​
Wales - 2,015,012 (27)​
Scotland
- 4,472,103 (59)
Ireland
(united island) - 4,458,775 (59)
United Kingdom total
- 41,458,721 (550)
Dominion of Canada
- 5,371,315 (72)
Dominion of Newfoundland
- 217,037 (3)
Commonwealth of Australia
- 3,773,248 (50)
Dominion of New Zealand
- 815,862 (10)
Cape of Good Hope
- 579,541 (8)
Natal
- 97,109 (1)
Orange Free State
- 142,679 (2)
Transvaal
- 297,977 (4)
Union of South Africa
total
- 1,116,806 (15)
Imperial Federation
- 52,752,989 (700)
As you can see, England is sufficiently populous that a majority of MIPs would represent English constituencies. Even several English counties have more people (and thus more MIPs) than most of the Dominions. The County of London, with a population of 4,536,641, has more MIPs than even Scotland or Ireland (who, delightfully, have the
exact same number of MIPs
). The County of London was reorganized into 28 metropolitan boroughs in 1900, and these should form the guiding boundaries for any STV constituencies. None should cross the boundary lines between the county and its surrounding counties (Middlesex, Essex, Kent, and Surrey) because this is not logical. (I'm also toying with having England's "top-level division" be counties, though a few are too small to support 3 MIPs.)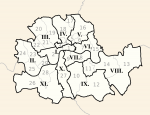 London divides its 60 MIPs amongst 11 constituencies. Although these adhere to the boundary lines of the boroughs, they also, wherever possible, evoke the 1868-85 Parliamentary constituency boundaries (and their names) so as to create a sense of continuity. The 11 constituencies are:
I.
The Cities of London and Westminster. Population 209,874.
3 MIPs
.
II.
Chelsea, consisting of the Royal Borough of Kensington and the Boroughs of Hammersmith, Fulham, and Chelsea. Population 500,013.
7 MIPs
. Given the special status of Kensington as a Royal Borough, perhaps the constituency might be named "Kensington" instead.
III.
Marylebone, consisting of the Boroughs of St Pancras, Hampstead, St Marylebone, and Paddington. Population 550,729.
7 MIPs
.
IV.
Finsbury, consisting of the Boroughs of Holborn, Finsbury, Islington, and Stoke Newington. Population 547,041.
7 MIPs
. Given the geographical and population dominance of Islington within the constituency, perhaps it might be named "Islington" instead of retaining the historical name of "Finsbury".
V.
Hackney, consisting of the boroughs of Shoreditch, Bethnal Green, and Hackney. Population 482,298.
7 MIPs
.
VI.
Tower Hamlets, consisting of the boroughs of Stepney and Poplar. Population 467,386.
6 MIPs
.
VII.
Southwark, consisting of the boroughs of Bermondsey and Southwark. Population 365,770.
5 MIPs
.
VIII.
Greenwich, consisting of the boroughs of Deptford, Woolwich, and Greenwich. Population 323,435.
4 MIPs
.
IX.
Lewisham, consisting of the boroughs of Camberwell and Lewisham. Population 386,718.
5 MIPs
.
X.
Lambeth. Population 301,873.
4 MIPs
. The only borough to be a constituency all on its own, to avoid disturbing the approximate shape of the 1868-85 boundaries without violating the boundaries of the boroughs or the county itself.
XI.
Wandsworth, consisting of the boroughs of Wandsworth and Battersea. Population 400,926.
5 MIPs
.
Obviously, in the early going the three dominant parties are going to be the Conservatives/Unionists, the Liberals, and Labour (particularly in the East). Whether the STV electoral system means that MIPs from additional, nascent parties - as well as local interest parties, even "London regionalists" - are to be elected - is something worth discussing (and/or writing a TL about), especially for anyone who knows anything about early-20th century British politics. I thought I would start with the County of London because it's easiest to find lower-level boundary census data there. It was
much
harder for Lancashire, for example.
Anyway, that's what I have of my little side project for now. I'd love to read your thoughts and other comments about it!
Last edited: