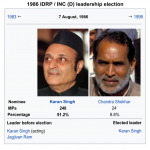 Jagjivan Ram's premiership was a most difficult one. When he came into power in 1982 on a broad coalition containing the near-entirety of the anti-Sanjay Gandhi opposition, many were hopeful he would institute their reforms, in the manner they wanted. Yet, after amending out the Emergency amendments to the constitution and restoring parliamentary government, the coalition's internal contradictions immediately began to spin out of control. When, in 1984, Jagjivan Ram declared the institution of caste-based reservations in university and government jobs, the result was a wave of student self-immolations which horrified the nation. The Indian Democratic Revolutionary Party split into multiple parties, and though the sheer scale of the 1982 landslide meant that the IDRP retained a large majority, it lost legitimacy. To regain it, Jagjivan Ram had Parliament dissolved in 1984.
The result was, after a long and dirty campaign, the IDRP retaining a majority of a mere two seats - and the Sanjay Congress, under the competent leadership of Sanjay's wife Maneka, won well over one hundred seats. Most horrifyingly, the Sanjay Congress petitioned the courts to have them recognized as the true Congress faction. The IDRP, unwilling to let the legitimacy of the Congress party go to a dictatorial front, immediately declared the formation of the Indian National Congress (Democratic), a party consisting of 119 IDRP MPs. It was, at the outset, a party which shared all organization and leadership with the IDRP. This faux-split was enough for the courts to refuse to recognize the Sanjay Congress as official. This proved yet another gnaw at Jagjivan Ram's leadership. For the next two years, he established a firm economic policy, one that was pro-business but albeit statist and not pro-market. The result was an economic boom. The rising Khalistan movement established waves of terror across Punjab, killing political opponents and those Sikhs it deemed "heretical", but it broke up in infighting after Jagjivan Ram revealed connections between Sanjay Gandhi's dictatorship and the Khalistan movement leader Jarnail Singh Bhindranwale - Bhindranwale would end up dead in 1985. It was into this atmosphere, calming but still tense, that Jagjivan Ram died in 1986.
And so, the 1986 IDRP/INC(D) leadership election was held. The acting leader was Karan Singh. He had a long career, serving as first, the crown prince of the British Raj princely state of Jammu and Kashmir, and then after its accession to India as its Sadr-i-Riyasat and later Governor until 1967, when he resigned to join the Indira Gandhi cabinet. Here, he swore off his stipend as ex-monarch and assented to the abolition of all ex-monarch stipends. He continued to serve in the Congress cabinet even after Indira's death in 1976, only resigning in 1977 in protest at Sanjay Gandhi's desire to make the authoritarianism of the Emergency permanent. He later joined with the defectors to the opposition in 1982, becoming the Foreign Minister in the Jagjivan Ram cabinet despite suspicions at his alleged Congress sympathies. He served this role well, and brought India's reappearance onto the international stage. With him becoming Acting Prime Minister and leader of the party after Jagjivan Ram's death, he used the position to negotiate the endorsements of numerous would-be leaders - all except for one. Chandra Shekhar had been in the "Young Turk" faction of the Congress party, advocating socialistic reforms, and initially supported Indira Gandhi. However, he supported the anti-Indira JP movement, and thus despite being in the Congress party he nevertheless went to jail as a political prisoner during the Emergency. In its wake, he had a desire to lead, becoming a cabinet minister, and he found Karan Singh, an ex-monarch, fundamentally suspect and anti-reform.
Yet, Karan Singh's canvassing proved effective, and he successfully got most of the party on his side. In his acceptance speech, he spoke of conciliation. He spoke of national unity. To those suspicious of his aristocratic birth, he understood that, and he noted that, yes, his father was borne of luxury. But he also spoke of his mother, born in a poor Patiala household, and screwed by the feudalistic system. He spoke of his desire to end feudalism and establish a truly egalitarian republic. But many remained suspicious of an ex-monarch heading a republican government, and when Karan Singh asked Chandra Shekhar for conciliation, Shekhar refused, and instead walked out of the party caucus with his supporters and formed his own IDRP (Shekhar). With the IDRP/INC (D) having had a razor-thin majority, it now lost it, and this meant new elections. Karan Singh wanted to be prime minister - now he had to win a majority in an election.