The Indian presidential election, 1982 was a momentous election. After the assassination of Indira Gandhi in 1976, in a period in which she temporarily established what can only be called a dictatorship, Sanjay Gandhi, her son, succeeded her. He ruled India with an iron fist. In 1977, he amended the Indian constitution to make it semi-presidential, with himself as President; in the 1977 presidential election, the first presidential election to be popularly held, he was the one and only candidate due to the continued imprisonment of political opponents, which meant that despite his unpopularity he was able to win the election. In the five years of his presidency, he declared President's Rule in every non-Congress government in India, and despite the resultant protests his rule continued. Corruption increased to never before seen extremes. Most controversially, he spearheaded a campaign of forced sterilization, primarily vasectomy. In many cases, botched sterilizations resulted in deaths, and in others children were even sterilized. It is estimated that twenty million people were sterilized during Sanjay's reign of terror.
Come the 1982 election, Sanjay was massively unpopular. In 1981, a protest in Amritsar led to the killing of one thousand people by the Indian military under Sanjay's orders; when word got out, it was much compared to the 1919 Jallianwala Bagh Massacre by the British Raj. This "Second Jallianwala Bagh" initiated a series of protests across India against "Sanjay the Britisher", which ended in violence in many cases. Though Sanjay desired to delay the 1982 election, many of his sycophantic advisors told him that the people of India still loved him and an election would reveal this, putting an end to the protests of a "small minority".
It was in this authoritarian atmosphere that the 1982 election occurred. Though most expected Sanjay to be the sole candidate, Nehru's sister and Sanjay's great aunt Vijaya Lakshmi Pandit, and a person known for opposing Indira's authoritarianism, signed up as a candidate with the election commission. While the Election Commissioner was appointed by Sanjay, he accepted Vijaya's candidacy despite this. Today, he claims he did so to save Indian democracy, but others point to other things. A few days after accepting Vijaya as a candidate, he placed fifty crores into his bank account; this, many believe, was a bribe paid by Vijaya and others in return for accepting her candidacy.
But nevertheless, Vijaya was a candidate, and though Sanjay had her arrested and imprisoned immediately upon learning of her candidacy, he could not remove her from the ballot. He was nevertheless told by his advisors that Vijaya was a non-entity, and that he was popular. And so the 1982 election went on.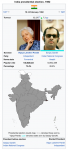 The results surprised almost everyone. Vijaya swept every state and union territory in India, and she won 73.4% of the vote. Sure, the Indian people didn't know a thing about her, but they were willing to vote for anyone not named Sanjay Gandhi. Sanjay, astonished, was forced to step down after such a landslide, and so with that Vijaya took her oath.
Immediately, she freed political prisoners, nullified Emergency decrees, dissolved Parliament, and held a general election.