Seventh Party System Infoboxes: 2019 Bismarck, MS
Tsundoku Tibby
Patreon supporter
Location
Pronouns

they/them
After the
2018 Mississippi election
, the Reform-Pirate-Green coalition got to working on transforming Mississippi into their vision. As every party was tainted with corruption apart from the government parties, the polls went irresistibly higher and higher for them. Nobody could defeat them. Nobody.
Enter Jack Dayton. Incumbent Labor mayor of Bismarck, the capital of the state, for two terms, he was from a very old political dynasty and the son of a Governor in the 90s. He was the epitome of what the United Left portrayed disparaging as 'labor aristocracy'. Union to his bones, he grew up on his father's knee learning of the importance of helping other people out. Or at least that's what he says to voters.
Affably known by the city as "Bismarck Jack", he was before all the scandals sank Labor an unbeatably popular mayor who seemed set for a third term. As he looked at his polling, he realised one cold hard fact – if the people was voting for the party, he would lose. Labor was seen as too corrupt. But if they were voting for the person, well that would be a different story.
Local parties at a city level is not an unknown phenomenon in America. But since the collapse of the Bismarck German-American Bund in the 40s due to an embezzling scandal, it was not present in Bismarck. Dayton chose to move quickly, and pulled in a few contacts in the city council, and declared in one snowy day in February 2019 that he was leaving Labor to found a party that would work 'for all' -
Bismarck for All
.
In his speech, he peppered in some suitable criticism of the state Labor Party but carefully chose to avoid any of the city's own politicians, even those under assault by the Pirate hackers in their quest to take over the city. Then he announced he would run for a third term under that party label.
Even as Pirates and Reformists lambasted Dayton's new party as 'Labor with a new coat', they knew that Dayton was a formidable beast who held the treasure that the Pirates so desperately sought, that of the title of Mayor of Bismarck. The state was one thing, but if they could deny Labor their last statesman, they could complete the revenge on the party they left.
The polling showed Dayton, shorn of the unpopular Labor brand, surging from 13% to 19% and leapfrogging the Republican, Reform and Green candidates in the bargain. Of course, those three, and the Pirate one even, was generic candidates, but it had ill portents for the coalition's chances. But they would win! After all, the voters wouldn't re-elect a Labor man! He's too corrupt! They would see sense, and the hackers would make sure of that.
The first of the main four opponents to Dayton to be nominated was the
Green
Andy Gordon. Andy Gordon was a long-time Green politician since he first won election to the Bismarck City Council in the 1980s. Gordon was of the more centrist bend in the Green Party, more influenced by the southern Missouri Greens than any more left-wing variety, and this showed in his rhetoric where he pledged
"a more progressive and renewable Bismarck".
The second of the four was
Reform
, hot on the heels of the Green announcement. And they picked a "star" candidate in former Senator Fred Quie. Quie was ex-Labor and often bemoaned of the growth of 'identity politics' in America as a whole. His curmudgeonly rants would prove popular on the radio and get many old heads nodding along sagely to his incoherent wisdom.
"The one thing I will say to the youths of this great country of America – you didn't build it! We did! We need a leader who respects elders!".
The Pirate 'establishment' [for lack of a better word] was concerned about Quie. After all, his rants were often more directed at bemoaning the youth, which tended Pirate, than parties like the Republicans or Labor. But surely those worries weren't concrete. It was too soon for the coalition to fray. Polling still had them with a strong lead in the preferences.
The
Republican
candidate was announced in April. The Bismarck branch seriously considered just endorsing the Libertarian candidate and focusing on securing as many council seats in the anti-establishment wave as possible. But then the twenty-something scion of a multi-millionaire confectionery family Matt Cawthorn promised to fund their entire campaign, including down-ballot, if he was the mayoral candidate.
With the national and state Republican Party withdrawing funding from Bismarck proper in favour of the outer metro, the local branch agreed to nominate Cawthorn. Once he was introduced as the candidate and took the stage to speak, they realised just what an utter out-of-touch loon he was. He kept talking about
'small million-dollar loans'
,
'ensuring that every poor person is able to set up a start-up with a wealthy investor'
and the most damning -
'the trains would be sold to my father who would manage them well'.
The Republicans scrambled to replace him, but with many of their local candidates already accepting his money it was clear that it was Cawthorn, or oblivion. In the end, the head of the Bismarck Republicans decided to give Cawthorn a 'crash course' on politics to salvage their chances.
After one too many hair pulling moments, Cawthorn finally was pushed back on the stage for a 'relaunch' and this time sounded more like the average wealthy Republican. Bit too Dewey-like for some tastes, but this wasn't rural Mississippi, this was Bismarck. As long as the state party isn't giving them funding, they would skew more moderate if it was necessary.
While the saga of Matt Cawthorn's rocky start in electoral politics was going on, the
Pirate
Party held their e-primary in June, and in the end chose Facetuber and blogger Sophie Osnes in a landslide. Her acceptance video was exquisite and well-choreographed, just like what people grew used to expecting from her. Her message was of course oriented around
'cleaning out City Hall'
, listing the city Labor Party's many crimes, including some that was floating around to be Dayton's. She was a candidate well-suited to the Pirate base of young people desiring an alternative to establishment corruption.
With the line-up of the five major candidates completed – Cawthorn, Dayton, Gordon, Quie and Osnes – the campaign entered the second phase, that of an intense few months of feet on ground and big rallies, with a solitary debate near the end between the five despite attempts by the Libertarian, Black Panther and Asian Action candidates to enter.
This hectic period was always the hacker's paradise, and they had one target in mind, that of the Mayor. A key part of Dayton's message was that he was not like state Labor, that he had clean hands and could be trusted to look after the city well. This message, to the hackers, had to be shattered.
The hackers released sources that alleged that Dayton was embezzling the city's funds and released 'statistics' that showed money 'mysteriously' disappearing from the balance each month, presented in a very biased and 'scandalous' light. They thought they got him. This attack was a tried and true one that would take down many politicians.
But as 'Bismarck Jack' walked to the podium, he held up a huge black folder, overflowing with bookmarks and groaning under the weight of the papers stuffed into it. Putting it on the podium, he began
"Now, you may have heard concerning stuff about some statistics, so I've got the budget book out. I have got permission from the treasurer to show this to you, the voters, since you deserve to know the truth.

I almost believed those news, don't get me wrong, but then I realised one thing that this city under my leadership has never done. It has never uploaded the budget to the Internet! You can't hack a piece of paper!"
. This was said with a light laugh, then he pledged to release the year's budget statistics as a summary to every voter so they could judge for themselves.
The hackers seethed. 'Bismarck Jack' came out of it smelling of roses.
Meanwhile, Fred Quie was seemingly zeroing in his favourite target, the youth, with a radio rant all about how 'the internets are addling our youth's brains', laced with not too subtle implications about Osnes' mental health. This got Ross Ventura [under urging by his Pirate cabinet members] to phone him and ask him to
'settle down about the young people'
. This just led Quie to explode at Ventura and question him
'how much of those cockamamie Pirates have ever had a proper job? Answer me that, Ross. Answer me!'
.
Faced with this, all the Governor could do was hang up and shrug helplessly. At this point for the Pirates, they concluded the mayoral election was less a cherry on the sundae of victory and more a poisoned apple that threatened to collapse the entire thing.
The campaign continued. Matt Cawthorn was, to the surprise of everyone including himself, a good campaigner once he was shook into sense. The fact that when he saw a person with a problem, he acted like he did to any problem he encountered, he promised to throw money [either his own or the city's] at it, helped to inflate the GOP vote beyond what it normally would have been, even if the more ideological aspect of the party bemoaned this 'socialism' and a few voters trickled to the Libertarians.
The below is one such example of the sort of campaign that appealed to people who wouldn't normally have voted Republican.
"I've been struggling to look for a home. What will you do to fix the homing problem?"
"Well, I'm sure we'll find something. Money is no object when it comes to helping people after all."
"So that means you'll promise to spend more on housing?"
"Sure. I'll even phone up a friend of mine, heard of Dennis Lath? He's good at building houses. I'll ask him to build houses here and cover the expense on behalf of the council if I'm elected."
"... You are truly a great candidate."
"Thanks! Mother said that too."
Andy Gordon was unlike the others, a rather boring candidate. Unlike the bombastic rhetoric of 'Bismarck Jack', the choreographed personality of Osnes, the incoherent rants of Quie and Cawthorn the man rich in money but poor in sense, Gordon was just a simple man. He would promise well-funded services, point out they would be balanced in his budget plan, highlight his long years as a local politician, and promise to be an honest Mayor.
But when has that ever been appealing? But Andy Gordon wouldn't give up, that much has to be said. Getting out of bed every morning, even to stagnating polls, he would regularly meet voters, shake their hands, and even throw a barb at a fellow candidate here and there. But he preferred a 'bread and butter' campaign on 'the basics' than whatever the others did.
The debate came in October. By then, the city was sort of roused up by the intense campaigning, and wanted to see what the five were like in a debate. Osnes was by that point still leading in polls, even if the preferences in the second round was slimming as more and more Reform voters put Dayton above Osnes. This debate had to be crucial for her.
In the end, a campaign ran entirely out of prepared videos, fervent students and mudslinging hackers failed entirely to hide the one weakness of Osnes. That she was crap at speaking 'from the hip'. The charisma fell apart as she began mumbling incoherently and failed to provide anything but rehearsed soundbites. You could just swear that over the course of the debate, Dayton's smile got even wider than before. Meanwhile, Dayton and Quie exchanged banter as the two got on very well as the 'elder' candidates in the race.
The hackers panicked and ended up releasing their 'Mother of All Bombs' a few days after the debate, hoping to salvage their candidate's victory. It was lurid, graphic, and tried to portray Dayton as a man who exploited his staffers for his personal sexual gratification.
The Mayor stood at the podium once more, with his wife next to him and people sat behind him, and stated, with the utmost confidence –
"We have had lies and statistics. Now we have damn lies. There's nothing true about those allegations, and in fact those staffers are here today to give their side of the story, not what some sicko in a mask says. I believe women, not hackers."
The 'Mother of All Bombs' was a dud. They believed Dayton would react like other politicians would have, hide away even if it was false. The hackers were chewed out by people back on the Pirate Galleon [what they called the HQ, yes you can tell they're mostly students] for being utterly lazy and treating Dayton repeatedly like a normal politician when he was nothing of the sort.
Despite all of that, the polls were still tight, even as Dayton took a lead in the preferences for the second round. Osnes released much more videos, each of them designed to look 'casual', and her students became so fervent in their campaigning that some even fell asleep on the street. There would be one final event related to this before the voting happened.
The Mayor was looking out of the window as his guard drove, and he noticed a young man sleeping face first on the pavement. Ordering the car to stop, he smelled a new PR win for him, and gently shook the young man awake. Upon getting an explanation of why the young man was there, the Mayor asked the guard to take him home, and he himself would walk the rest of the way to his destination.
This was of course frontpage news the next day. And arguably sealed his victory, dashing the final fragile hopes of an upset.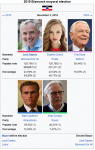 The make-up of his second-round victory, surprisingly enough, came primarily from Reform and Republican voters. The Reform voters became increasingly second-preference Dayton after the warm exchanges between him and Quie, but the shift, as poll analysts would say, ultimately began with the budget fiasco when Dayton declared he preferred to do it paper, rather than online.
And the ones who went Cawthorn first, Dayton second? They were mainly people who were primarily middle-aged and struggling, and appreciated a politician who seemed to speak to their concerns, even if one was just promising to throw money at it, and the other already had eight years to fix it.
There were political commentariats afterwards that were sure of a possible extrapolation of the 'Bismarck case' to the whole of Mississippi, or even suggested a merger of Labor and Populist to form 'Mississippi for All', but this was quickly shot down by people on the ground there who pointed out that Bismarck was an unique case and Reform's greater strength elsewhere would doom any 'Mississippi for All' endeavour.
====
Flag is that of a modified proposal for Minneapolis I found on Reddit, produced by mattcscaz that I recoloured in Imperial German colours.
Pictures are, as always, courtesy of FaceApp.
Last edited: