Misgendered! At The Disco
Location
Pronouns

they/them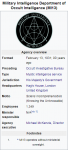 Military Intelligence, Section 13
, also known as the
Department of Occult Intelligence
or most commonly as
MI13
, is the mystic and occult intelligence agency of the United Kingdom. It operates alongside the mundane arms of British intelligence, such as MI6 and MI5; unlike those sections, however, MI13 operates without ministerial oversight, largely 'off the books'. This has given the service a reputation for the sinister, giving rise to a number of conspiracy theories involving the organisation.
Section 13 of Military Intelligence was established in 1931, during the interwar period. It's existence was a close state-guarded secret; though it knew of and was known by other contemporary mystic intelligence agencies. The founding, and only known, Director of MI13 was Michael McKenzie, the Scots Guard responsible for the discovery of the Shiva Stone in 1929. McKenzie's leadership of MI13 was controversial within Military Intelligence, but his subsequent discovery of the Hag's Stone and near-reclamation of the Excalibur relic secured his position. Under his command, Section 13 contended with the contemporary operations of rival organisations, most notably the NKVD-DTP, the SS-MS and the Seikeitai.
After the war, MI13 remained in obscurity. It was involved in the Cold War, ending a brief alliance with the NKVD-DTP, but remained hidden in the shadows. The release of the McKenzie Manuscripts in 2001, as per McKenzie's will, revealed the existence of the organisation to the public, and it was forced out into the open.
MI13 is responsible for the acquisition, classification and protection of unknown non-standard objects, the investigation of non-standard occurrences, and the countering of occult espionage and terrorism.
Section 13 is officially headquartered at Hag's House in London, but it is widely accepted that the organisation maintains a number of other, more secretive facilities, and the department's operations at Hag's House are widely viewed as a front for its other activities.
Last edited: