Pronouns

Logical, unlike those in German
So I'm currently on a week-long vacation to Paris visiting the forum's beloved and true
@Redolegna
himself, and so I figured I might for a few short days take a break from my self-imposed embargo on actually participating in any discussions on the forums. So that you folks will have something to remember me by when I return to Sweden and once again must return to focusing on my work, I create this thread in which I shall post various things I draw and otherwise construct.
At the moment, I have in an attempt to educate myself decided to make a full set of the electoral maps for all post-war Japanese elections. Much to my happiness I have from a very generous and reliable source gotten the information I need for each and every SNTV election between 1947 and 1993, and I shall soon start doing that. As a first little experiment however, I am attempting to do Japan's most recent election. I kind of prefer working in vector graphics for these things, and so Inkscape is my tool of choice. Currently, I have finished cutting up, I estimate it to be, some three fifths of Honshu, and Hokkaido into single-member districts: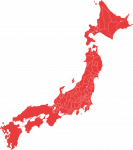 As for my future endeavours, one thing I've always much enjoyed with graphics from the 19th century was how much more eager people back in those days were to use pie charts in maps. While of course one should be careful so as not to overdo it (see the third image from above):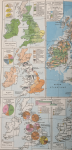 (picture taken from Redolegna's wonderful reprint of a 19th century atlas)
...but it still gives a very nice feeling to the whole thing. Another truly great aspect of working in vector as opposed to pixel-format is the very user-friendly way in which information is
stored
in an .svg file. It is in fact stored in such a neat way that once can produce graphics of one choice through the simple use of a Python-script: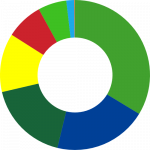 ...or even better, one can change the colours of individual constituencies from directly reading in information from an excel file!

[Picture of this in action yet missing]
This means that once I have all the infrastructure in place, it will be very easy to produce graphics displaying every piece of data that I happen to find interesting.
As I complete each map, I shall of course upload them on Wikimedia Commons, and here in this thread.
I hope you shall enjoy!