Southern Unionists are something I don't often see discussed, beyond the odd mention of General Thomas of Virginia, which is a pity because there seems to be a great wealth of potential there, particularly regarding the topic of potential states that might or might not have been. For instance:
-WI no West Virginia: admittedly, divisions between East and West Virginia predate the Republic itself, so perhaps something like this was inevitable, but the counter-secession and admission of WV was a divisive topic. What if instead the Unionist had opted to just be the official Virginia, a sort of Legitimate Virginia in Exile, and reunite after the war? (Note: the
Restored Government of Virginia
was basically this, IIRC)
-WI more Unionist States: what if more counties had followed the WV example, perhaps aided by a more successful western campaign in Tennessee and Appalachia? Imagine a push towards Atlanta or North Alabama early enough in the war to allow for a resurrection of Franklin State in East Tennessee/West North Carolina, or a state in Northern Alabama.
-Of course, there's always the possibility of partitioning Texas post-war, with the proposed state of Lincoln.
Tennessee

(especially

East Tennessee

),

North Carolina

and

Virginia

(which included

West Virginia

at that time) were home to the largest populations of unionists. Other (primarily

Appalachian

) areas with significant Unionist influence included

North Alabama

,

North Georgia

,

Western North Carolina

, the

Texas Hill Country

, northern

Loudoun County

(

Virginia

), the

State of Scott

(

Tennessee

), the

Free State of Jones

(

Mississippi

),

North Mississippi

,

North Texas

, the

Arkansas Ozarks

,

[3]

and

Boston Mountains

in Arkansas,

[4]

who provided thousands of volunteers for Union military service. Western North Carolinians, for example, formed their own loyalist infantry, cavalry and artillery regiments, while West Virginians formed a new Union state in 1861, officially admitted in 1863.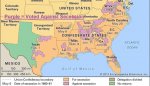 Last edited: