Just mapped the results for the 2018 Colchester Borough Council elections. All-ups on new boundaries in 2016 - but the council is otherwise by thirds, meaning this year the third places were up. Since last time the Conservatives took a seat off the Lib Dems in Shrub End, bringing the pre-election standings to CON 23 LDM 14 LAB 11 IND 3; the council being run by a coalition of Liberal Democrats, Labour, and Highwoods Independents.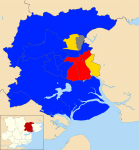 TOTAL: CON 25 (+2/-0) LDM 12 (+1/-3) LAB 11 (+1/-1) IND 3 (+0/-0)
OF CONTESTED: CON 10 LDM 2 LAB 4 IND 1
CHANGES: New Town & Christ Church (LAB GAIN from LDM), Stanway (CON GAIN from LDM), St Anne's & St John's (CON GAIN from LDM), Wivenhoe (LDM GAIN from LAB).
Party specific maps will come later.