Despite continuous Bennite success at remaking the Labour Party into a democratic member-led organisation, leader Michael Foot had to deal with calls from the internal right to step down in favour of Denis Healey, whose narrow loss in the deputy leadership race still irked him and close allies. Foot had tried to unite the movement, begged the Gang of Four to stay and Tony Benn to leave alone back in 1981; he held on and, together with colleagues, prepared for the general election. In between rallies, they worked on the manifesto; Healey and others allowed the left creative control so as to discredit it once an election loss had been made inevitable. However, socialist ideas proved popular for a sizable, diverse group of voters in all corners of the nation. Compromise, practised during the 1970s in government, caused numerous Labour supporters to feel betrayed. Benn in particular could deliver on real socialism and give workers a meaningful say in their companies at the top level. Aligning with this, Mr Foot stated that all conference resolutions would enter Labour's manifesto document.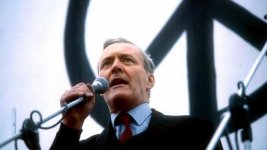 39 pages long, 'The New Hope for Britain' arrived to controversy at a press conference in Wales. Labour pledged: massive government spending on industry, housing and social services; public ownership of the banks; a realistic exchange rate for sterling to boost exports; a national agreement with trade unions on incomes, prices and profits; withdrawal from the European Economic Community; the removal of US nuclear bases on British soil; cancellation of Trident and cruise missiles; inclusion of the UK's Polaris system in Geneva arms discussions; an end to the legislative power of the House of Lords; a new Cabinet minister for women's rights; and a Freedom of Information Bill. Centrist MP Gerald Kaufman described it as "the longest suicide note in history". Eschewing more modern communication such as televised broadcasts (unlike Mr Benn), during public meetings and radio interviews Foot argued for the Labour manifesto. Policy-wise, it had the deputy leader's fingerprints all over; consequently, reactions were mixed but strongly expressed. A vision of idealistic principles enacted via coordinated planning and state enterprise, answering a set of socio-economic and political crises, presented the radical left with its best strategy for power. Right-wing Labour figures were appalled. Short of running to the Alliance in the middle of a campaign, many howled to sympathetic media outlets, leaking dismay at Benn's "zealotry" and Foot's "hapless" manner. If every bit of this seemed predictable, the document's marmite effect on the doorstep and in Westminster contributed to a sense that Labour were badly divided.
Confirmed in her beliefs, Margaret Thatcher attacked Foot as a dangerous man hell-bent on surrendering the country to its enemies and trying to implement fundamentally un-British values. With the economy in such a mess, the Prime Minister's criticisms of Labour along these lines had only some degree of persuasiveness. Instead, the Conservatives favoured siding clearly with business (owners) and displaying Thatcher as a true Cold Warrior, ideologically opposed to the Soviet Union, in election advertisements that attempted to whip up a 'red scare' among the population. The Alliance, however, were free to unleash a flurry of campaign material on every subject. David Steel called Labour's policies "the most extreme in my lifetime" on the grounds of their ostensible threat to national defence, a mixed economy, cultural freedom and stability. Shirley Williams played to moderate Labour supporters, asking them to "lend" their vote to the Alliance as no overall control in Parliament became a very plausible outcome. Liberal and SDP representatives would "clean up politics" while advancing in office a post-war consensus under threat. Benn questioned the desirability of bridging different interests in the workplace; Thatcher repeated her claim that the SDP had no proposals. Either way, a spirit of compromise and the feeling that Alliance MPs were a safe third option for disgruntled soft Conservatives and uneasy Labour folk pleased voter demographics in marginal seats up for grabs.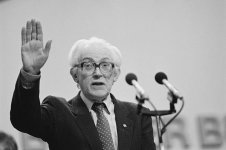 Last edited: