I learned that in the 1600s there was an active and wide spread set of Jewish communities inside of the Caribbean. Amongst this was Jewish Pirates.
If you go to Jamaica you will find grave markers with Hebrew written under the skull and bones.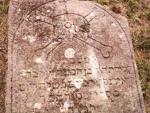 Add to this that many of these Jews were from Spain and Portugal. The portugese inquisition began in 1531 and Spain was still having lingering effects of its own. So many Jews were fleeing to the new world for a better life.
I like this idea so much in my head this is what occurs.
"Jewish land laws" are set up so instead of converting jews Europe has a general kick them out attitude. They need settlers in the new world and Jews have some skills. So two birds and one stone. This means the over all Jewish population is high. OTL at one time 20% of Jamaica was actually Jewish. In fact Spanish town was founded by jews. (Story #1: Arrival of Jews to the Caribbean. Bad conditions on the ship, almost slave like labor on the island... but once that first city is up and running all that hope for a future "free from those who oppress us."
So golden age of piracy occurs and we see a lot more Jewish pirates. A lot more nations willing to hire privateers. So the Caribbean is what it is OTL but now there is a group of people with a central religious identity which is being denied to them. So we see folks from England, Italy, Germany, and France arriving next to the first generation Spanish and Portuguese. (Story #2: Pirates! Jewish Pirates and Privateers. 80 years war? Some war in which these men with ships are needed. Maybe use Moses Cohen Henriques who captured an entire Spanish treasure fleet in 1620s.)
We then get into an area where Jewish settlements are clear and established a period when some consider rising up against the Spanish leaders. Cuba in this I see a much more Jewish then OTL. Almost 40% which set alongside slaves is quite the population. So we get the first appearance of "Homelanders" or something not so lame sounding. Folks who want a Jewish nation. Some speak of the Holy Land other speak of the powder works in Havana. (Story #3: Jewish businessmen, politicians, officers, and a few privateers meet and discuss if they should join in the uprising in Havana. Say the ARW is starting up so the idea of a republic is there.)
By 1792 there is the USA and the Republic of Israel. And things are going forward. (Story #4: John Adams, or we make Ben Franklin live just a little longer then OTL inside of the Caribbean making a treaty with the Republic of Israel. Trade, all the Jews in America go there, and Israel gives up Florida.)