NORM DICKS DON BONKER
Patreon supporter
Pronouns

she/'er (as in "phwoar, look at the cans on 'er")
Hello, everyone. I'm Cikka, from the internet like, and welcome to Cikka's AH competition II.
DA RULES
I will pick a theme, out of my own infinite wisdom. The themes will usually be light and play off sitting AH tropes rather than anything you have to be inspired by.
You can do whatever you want, whether it be a wikibox, vignette, leaderlist, rundown.
Then, I'll do a poll at the end, and Robert is your Uncle. No prizes, unfortunately, excluding the adoration of your associates and acquaintances.
Cut off date is January 26th.
The second theme will be:
TAIWANISATION!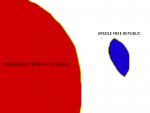 Decided to go a little more difficult for this one! The classic "Bullshit AH Scenario that very rarely actually happens", Taiwanisation is when a specific regime is isolated in another location after being kicked out. In this challenge you will need to use all your batshittery powers. Want to do Backwards Taiwan for no reason? Go ahead! Something to do with Sri Lanka? Feel free! THE IRISH? Maybe!
Go have fun!
SUBMISSIONS:
What is the Bosporan Sea Crisis?
by
@bd_roberts
A Rum Lot
by
@Mumby
Liberty's Last Bastion; or, The Moon Is Blue
by
@Walpurgisnacht
Last edited: