The chemicals tell me I must PERISH LIKE A DOG!
Published by SLP
This is a project that doesn't really have a natural forum to go in, so I decided to follow
@Brainbin
's lead from the Imperial Parliament project and put it here. I also want it to have its own thread so it doesn't come amidst the "random thing I found and decided I had to map"-posts in my regular thread.
In brief, this thread is where I adapt foreign countries to the Swedish electoral law. Psephological cultural imperialism, if you would.
I'm starting with Canada, which just had an election that showcased some of the commonly-stated pitfalls of FPTP - the Liberal Party won a strong minority government with just 33% of the vote, while the Tories got 34.5% and barely improved on their 2015 result, and the Greens got nearly nothing on 6.5% while the Bloc came in a strong third with about the same voteshare. Would any of this change under PR as used in a real country?
(I mean, the answer is obviously yes, but)
Canada is also quite a practical country to adapt to this system, because its parliament is very similar in size to the Swedish one. As such, I see no real need to alter the seat allocations in the electoral law - 310 fixed constituency seats and 39 supplementary levelling seats will quite handily do. Canada also has the same thing where it has one small island that needs to have constituency status despite being a bit too small, and it will be slightly overrepresented in my calculations - but not by as much as it is IOTL. I'm ignoring the "senatorial clause" completely here, because all the Maritimes fuck up the count if I don't. Yeah, this would likely be different in a real scenario, please don't @ me.
One thing Sweden has that Canada most assuredly does not have is roughly equally sized subdivisions that can handily work as electoral divisions. The Canadian provinces are
hugely
unequal in size, but as a minor sop to Canadian federalism I will be calculating seat allocation by province/territory first and then by division in those provinces that need subdividing. So, without further ado:
Code:
Canada

310 fixed seats to assign
Population: 35,151,725
Hare quota: 113,393

1st distribution

Newfoundland and Labrador: 4
P.E.I.: 2
Nova Scotia: 8
New Brunswick: 6
Quebec: 72
Ontario: 118
Manitoba: 11
Saskatchewan: 9
Alberta: 35
British Columbia: 40
Yukon: 1
Northwest Territories: 1
Nunavut: 1
Total: 308

2nd distribution

Newfoundland and Labrador: 4
P.E.I.: 2
Nova Scotia: 8
New Brunswick: 6
Quebec: 72
Ontario: 118
Manitoba: 11
Saskatchewan: 9
Alberta: 36 (+1)
British Columbia: 40 (+1)
Yukon: 1
Northwest Territories: 1
Nunavut: 1
Total: 310
So the only provinces that need to be divided here are Ontario, Quebec, Alberta and BC. And in a "proper" Swedish scenario where this electoral law has been mostly unchanged for decades, I could definitely see those just being massive single constituencies - Alberta particularly so, BC might just have the city of Vancouver split off. Nevertheless, I'm going to endeavour to divide them as naturally as I can into areas with roughly ten seats apiece. To give a sample of this, BC divides quite neatly (with one major exception) into four regions:
1. Vancouver
, consisting of the cities of Vancouver, Burnaby, New Westminster and North Vancouver, plus the district of North Vancouver and the electoral areas and First Nations reserves included within the two North Vancouver ridings. Population: 1,213,284,
10 MPs
.
2. Lower Fraser
, consisting of the remainder of the Metro Vancouver regional municipality (except West Vancouver - see next entry) as well as the hinterlands included in the Coquitlam--Port Coquitlam, Langley--Aldergrove and Pitt Meadows--Maple Ridge ridings. Population: 1,327,310,
12 MPs
.
3. Vancouver Island--Sunshine Coast
, consisting of Vancouver Island, the mainland parts of the North Island--Powell River riding and the West Vancouver--Sunshine Coast--Sea to Sky Country riding in its entirety. In an ideal world, the latter would be split between the Vancouver and Vancouver Island regions, but this is not an ideal world and the prospect of trawling through the nether works of Elections Canada for poll-level results does not appeal, so it goes with the side that would be smaller without it. Population: 915,294,
8 MPs
.
4. Interior British Columbia
, consisting of the remainder of the province. Population: 1,311,280,
11 MPs
.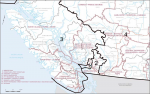 Last edited: