Tsundoku Tibby
Patreon supporter
Location
Pronouns

they/them

​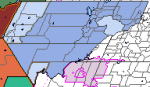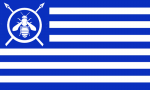 The
Holy State of Deseret
is a primarily Anglophone country with a large Castillian minority. It is known as the religious centre of the Church of Jesus Christ of Latter-day Saints, also known as the Mormon Church. It is widely considered to be one of the countries that are ran on theodemocratic lines, where the line between church and state is blurred, albeit the Mormon Church's influence is not as overt as other theodemocracies' faiths are, thanks to the first President, Joseph Smith Jr., being a firm follower of the ideals of Southron philosopher Thomas Jefferson.
The way the Deseret model of theocracy works is ultimately down to the bicameral model of its Legislative Council. While the lower chamber, the House of Commons, is conventionally elected via simple mixed-member proportional and works like a standard parliamentary lower chamber, the upper chamber, the House of Elders, is considerably more powerful than would be expected and is elected from religious-based functional constituencies, with the Mormon population getting the lion's share via their dominance of Deseret.
The presence of the House of Elders has always been a sticking thorn in the side of Deseretan secularists, who have consistently decried the overt presence of religion in government. The House of Elders started off as a chamber directly appointed by the Mormon Church leadership, hence the name House of Elders as it tended to have senior Mormon leadership be appointed there. As Mormonism started to shrink as primarily-Catholic people moved north, especially into the population-soaring New Vegas Autonomous Ward, pressure was put on the government by an increasingly-sceptical people who wanted a directly-elected upper chamber. Or at least one where they would have a say.
Hence the present House of Elders, an inventive solution to maintain Church influence over government while still maintaining democracy. Based on the religious census, the 120 seats are allocated out to each religious denomination. For the major ones [basically only Mormonism (60%) and Catholicism (20%)], they are of course permitted to split theirs into regional constituencies. The Catholic members of the House of Commons and the Catholic Elders work together to determine how it is split for them, and it has consistently been a primarily north/south divide, with the south being divided into New Vegas Ward and the rest of the Mojave Stake. The Mormon Church on the other hand, takes charge of how they divide their regional constituencies, and it does tend to favour established politicians high up in the Church.
Of course, in the religious-based House of Elders, there exist the abstentionist Secular Federation that stands for election, but refuses to take their seats out of principle at opposition to the whole "constituencies based on religion" thing. They tend to do well with the Irreligious constituency, but the size of the Mormon constituencies mean they're guaranteed at least a few seats there too.
Deseret is also known for two other things apart from Mormonism - gambling and transhumanism. Both of which doesn't quite gel with the standard world's perception of Mormonism. Gambling was an illicit but hugely popular "black market industry" in New Vegas along with alcohol (illegal in Deseret since the 1920s) and in the 1950s a canny conservative leader came up with the idea of making New Vegas an autonomous ward and granting it exceptions to many of the moral laws, in exchange for higher tax on the now legalised casinos. This windfall from legalising gambling led to the leader's party dominating government for twenty years straight and constructing the now-generous Deseret welfare state.
New Vegas nowadays is a very very developed city that soars high, defying the dry and inhospitable ground it was built on. And much to hardline moralists' displeasure, it is a very "loose" city morally, with alcohol, gambling, the like being big industries. And as for the second element, transhumanism, Mormonism has a part of its theology the belief you can become like God. Transhumanism was interpreted by a certain share as alike that belief, and so in major cities, but primarily Salt Lake City and New Vegas, transhumanism has became a popular thing for Mormons, especially those of a more liberal and progressive bend. Updates commonly seen elsewhere, like eye-pads, are seen as too basic for them. For a good example of transhumanism just go to the Deseret Museum of Art where a popular artist, Jocosa Martin, regularly shows her works. Martin only paints in two colours - paryl and chi. Those are the labels she uses for millimetre waves and x-rays respectively. To a normal observer with unenhanced vision, her paintings make no sense as they are either blank white canvasses or just random colours. To someone who can see paryl and chi, they are described as beautiful paintings that portray the true broadness of human experiences.
Overall, Deseret is a quiet, forward-thinking even if definitely not secular, place. Certainly a stable one compared to its neighbours to the north...
[the usage of "paryl" and "chi" to mean millimetre waves and x-rays comes from Brent Weeks' Lightbringer Series and is not my invention.]