Exhaustingly Tibby
Patreon supporter
Location
Pronouns

she/her
The presidency of Hubert Humphrey was not what many would have expected back in 1948. In 1948 he was the champion of the liberals, but since then, he fell into wrong circles, those of Pat McCarran and Joseph McCarthy, both vocal anti-communist Democrats and he increasingly aligned with them more than he would have, his strong anti-communist sentiment began to shift harder.
After convincing his new ally to not drink and hold hearings, saving McCarthy's career in the process, Humphrey would see an opportunity open up in 1956 as President Eisenhower declined to stand for re-election. Humphrey ran as a hardline Cold Warrior, promising to continue the fight against communism with no holding back. Choosing fellow hardliner McCarthy as his running mate and surrounding himself with an aura of youth and "Americanism", he managed to defeat Nixon in a narrow election.
While he did try somewhat to pass civil rights, his main concern since the early 1950s was fighting communism, and he remembered Pat McCarran's talk of camps for "communists, subversives and all enemies of America" and how he approved very much of the idea. Successfully pressuring Congress to vote it through, he got some condemnations from civic liberals like Sam Ervin, but those were attacked as "weak" against the Red Tide and should be ignored.
The camps opened in late 1959, and the first to be interned were the entire leadership of the Communist Party. But as the seemingly-endless fight against the Reds persisted, McCarthy and Hoover increasingly made Humphrey more and more paranoid. Universal healthcare was something Humphrey passed in his first term, but presently nobody wants to credit him with it, instead praising Mike Mansfield instead for pushing it through the Senate.
Meanwhile, a certain candidate managed to win his election by thumping harder against the federally-controlled camps than anyone else, even as he was endorsed by the NAACP in his deeply-southern state. This man would be ahead of the curve on this issue, as the South increasingly became hostile to the idea of federal camps, perceiving it as a way to undermine states' rights.
Entering the 1960 election, President Humphrey faced Governor Thruston Morton, who was the first Southern Republican candidate, and he managed to pick up the Upper South even as Humphrey won in a lot of Steel Belt states. Meanwhile, Sam Ervin headed a Dixiecrat campaign that managed to win the Deep South and his state of North Carolina yet failed to win anywhere else.
While Humphrey was a racial liberal, a decade of exposure to McCarthy's thinking made his anti-communism take prominence above anything else, and once presented with (now known to be fraudulent) evidence that Martin Luther King Jr. worked with the Communist Party, Humphrey authorised him being put into a camp. This led to many protests and the chant "Humphrey 1948 Yes, Humphrey 1960 No!". The protests only worsened and by the end of the month, lurid news articles about the brutalities the otherwise-peaceful protesters were dealt by the violent state police splashed around.
Now re-elected in a landslide, the Governor of Alabama decided that enough was enough. Supporting Ervin was one thing, but it was clear that if he wanted to end the violations of states' rights [and individual rights, but that's
another
thing] that he had to win the nomination. George Wallace ran a peculiar campaign some say was just opportunism as he was once a racial moderate yet banged on about states' rights in the campaign. By allying with the other anti-Humphrey candidate in the race, Senator McGovern, in exchange for freeing MLK and other civil rights protesters outright instead of relocating them to prisons, he managed to eke out a victory over Vice-President McCarthy, a victory for the anti-establishment forces.
President Humphrey, by this point a dark and twisted man compared to his 1948 self, publicly endorsed the Republican candidate along with Vice-President McCarthy, one former Vice-President Richard Nixon. Nixon was running with the strongest anti-communist Republican Governor, Harold Stassen, and emphasised continuing the camps but "reforming" them and implementing civil rights legislation. This pro-camps/pro-civil rights combination proved lethal in a South that could have been open to him against Wallace.
"Democrats for Nixon" was a very establishment thing, but many conservative labor unions publicly backed it and told their members to do so. The members however, they recalled how their friends and families, and even themselves, were "met" by a threatening figure who demanded answers for their past actions that were apparently suspicious. This fear was a powerful weapon.
Wallace ran a campaign based on that fear. A firm civil liberties campaign that studiously did not clarify what "rights" he was campaigning for, only that Humphrey went too far. In the South, he made it clear that he supported states' rights, but in the North, his rhetoric was more couched and he left it up to his running-mate the liberal South Dakotan to speak what was to Wallace, unspeakable. McGovern could talk to minorities about how the ticket could end the persecutions of minorities and free their relatives from the camps, and that matters such as civil rights were "personally" to him ones that he thought should be dealt with as soon as possible.
Nixon tried attacking this two-faced campaign and the peculiar coalition of segregationists and liberals, but for every attack he made, he made a misstep. When he talked about protecting the American way of life in the South, he sounded too Democratic for liberal Republicans, and when he talked about civil rights and ensuring that a civil rights bill would be "on [his] desk in the first hundred days" he sounded too liberal for conservative Republicans. This election was an unusual one.
In the end, despite all the party splitting.
Despite all the shoutings about two-facedness.
Despite Nixon's battle-tested campaign.
George Wallace won.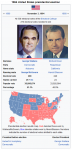 His declaration that this was the victory of the "silent majority", noting that all the polls said Nixon had a lead and they were wrong, heralded a new era. Vermont voting Democratic was unusual, but with both Republican Senators liberals and increasingly anti-Nixon, their vocal endorsement of Wallace changed the tide in the state at a presidential level.
On his first day, President George Wallace signed an executive order freeing Martin Luther King Jr.​
Last edited: