Acutely Tibby
Patreon supporter
Location
Pronouns

they/them
And because I'm such a fussbucket, I decided to go back and redo the 1932, 1936 and 1940 elections so that they "fit" within the system I was using.
Did end up getting better pictures [and in one case, stopped using the Wikipedia one. Good. I hate using Wikipedia pictures, they make me feel cheap.]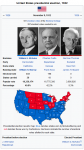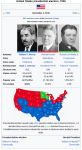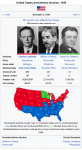 And after all that, I ended up doing 1944. After the Democrats essentially squander the opportunity of a lifetime to reshape America and the guy blamed for that leaves politics forever, one man is charged with leading the party back to power.
That man was Clark Clifford. He would arguably lead the party away from fascism. Or enable it to go further under Joe McCarthy. He's a man who leaves behind a controversial record, no doubt. Still remembered as "the only good president of that time" before Lodge smashes fascism up.
Anyway, in 1944 he's nominated for the first time, as more of a sacrificial candidate against the popular Lucky Lindy. He would do surprisingly well.