I had a dig through the flags folder, here's the best and worst of the bunch.
Firstly, two alt-US state flags that embrace horrific design to a realistic degree:
Mississippi
Tennessee
Both with a state seal slapped on that's appalingly difficult to sew up, and Tennessee even has a broad swath of beige in the middle. Not quite the seal-on-a-bedsheet - Pennsylvania, Georgia and Delaware kept OTL examples of these.
Three highlights, on the other hand. The first two I remain very pleased with, the third feels like a plausible design-by-committee flag that I'm happy to stick with but that I wouldn't actually like in real life:
Laurentia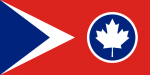 A late 1950s design to replace the previous red duster-based flag. No prizes for guessing where this country can be found on the globe.
Malaya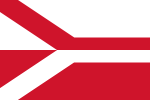 Almost OTL Malaya still including Singapore.
Oberrheinland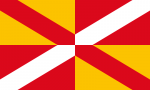 A federal state of a parliamentary republican democratic Germany (itself formed following a revolution in 1908). Basically, a quartering of Baden and a simplified Alsace, but reversing Alsace to give a by-quarters saltire over all. Except for changing a bend to a bend sinister and removing all the supplementary charges it doesn't technically break any heraldic/vexillogical rules, but it still feels thoroughly wrong in a way that I'm very satisfied with.