The End is Nigh / Eat at Joe's Cafe
Published by SLP
Hi everyone. I've started posting updates on a thread over on AH.com looking at old as well as new Sea Lion Press releases - as there may be newer members who didn't see their publication the first time around, or the original story threads that birthed some of them. I may as well crosspost these here, where they'll be visible to casual visitors to this forum who don't yet have an account. Please feel free to sign up and ask questions about any of these books!
The Inaugural Thandean Sea Lion Press Book Review of Books (Trigger Warning, Includes Books)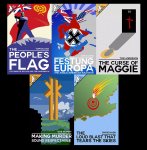 ​
By a funny coincidence, the Random Factor (Like A Tractor) has drawn mostly books from our earlier tranches - which is good because that's what I wanted. It does also include
The People's Flag
, which is one of SLP's more recent releases, but - well, I'll just get right into it. (Click the links on the titles to go to the SLP page for that book which contains the links for Amazon and alternative purchase methods).
The People's Flag by Tom Black (Meadow on SLP):
1917. The Kaiser declines to resume unrestricted submarine warfare.
1919. France collapses into Syndicalist revolution.
1921. Britain signs the 'Peace with Honour', formally ending the Great War.
1925. An incident involving Welsh miners leads to a General Strike, which soon becomes the British Revolution...
In the opening volumes of this faux-history book, scholars from another timeline come together to write a flowery and officially-sanctioned history of the Union of Britain, a socialist republic on the island of Great Britain. From its fiery birth through to bureaucratic political manoeuvres, this book spans the years 1925 to 1940.
Based on notes from early builds of the Hearts of Iron modification 'Kaiserreich: Legacy of the Weltkrieg', and penned by a former 'Kaiserreich' developer, 'The People's Flag' fleshes out the backstory of the Union of Britain, and offers speculative detail on other radically altered countries in the 'Kaiserreich' universe.
Lovers of 'Kaiserreich' and newcomers to the entire setting alike will love Tom Black's ('Agent Lavender', 'Zonen', 'Meet The New Boss') history book from another world.
Thande's thoughts: I'm actually reading this properly for the first time right now, and enjoying it. @Meadow (Tom Black) started posting it here on AH.com waaaay back in 2010, but this version is obviously greatly improved. I particularly enjoyed Meadow's attempt at mimicking Jeremy Clarkson's writing style, from a TL where he grew up in post-Syndicalist Britain and is mainly train-mad rather than car-mad.
Fun fact: seeing the original thread was my first exposure to Meadow and at the time, I thought he was a filthy casual as a result of some of the odder 'writing decisions', not realising the scenario was based on the Kaiserreich mod for Hearts of Iron and thus he was stuck with trying to justify some AH-questionable stuff that had been put in by other people. Funny how things turn out isn't it, now he's running the world's first AH publisher and publishing my books.
Festung Europa by Jon Kacer (CalBear on AHcom):
What if the Third Reich had managed to defeat the USSR? How would the US and Great Britain have reacted? What would have happened to Europe if Hitler and his evil minions had gotten the change to pursue their mad schemes to Germanize the Continent?
If after an uneasy truce the war had reignited, but with the vastly more powerful weapons of the late 1950s replacing the Me-109s and Spitfires? These are a few of the questions that are examined in this landmark work.
Starting with an overview of the world leading up to the resumption of all-out war between the Allies and Nazi state, we see the all-too possible results of the Nazi Party in control of Europe for an additional decade and longer. This is followed by a detailed examination of the tactics and politics that might well have resulted in a WWII far more destructive than what was experienced in our time.
Written in the style of an actual history of the War done years after its conclusion, Festung Europa approaches one of the great "What Ifs" of alternate history in a unique manner.
Thande's thoughts: This book began as "The Anglo-American/Nazi War", written on this forum by CalBear . Yes that is meant to be the Nazi flag on Europe, but we want to sell this in Germany, where it was assumed at the time we weren't allowed to depict swastikas (I think this was later clarified). This is one of SLP's most popular releases, though its Amazon review score occasionally takes hits from Nazi fanboys upset that Cal portrays 1960s Nazi Germany as not only evil but laughably incompetent, having long since purged anyone who knows what they're doing. I can't say that's a reader demographic group we particularly want to appeal to.
The Curse of Maggie by Tom Anderson (Thande on SLP):
Since 1979 just four men and two women have occupied Number Ten Downing Street and the office that comes with it, all but one serving for many years. But things could have been different. By contrast, since that same year of 1979, Japan has changed its Prime Minister 14 times and Italy 22 times. What if we lived in a world where Britain was just as much a land of mayfly Prime Ministers as those countries, where no-one since Margaret Thatcher has successfully held the office of Prime Minister for a full five-year parliamentary term? A world where one might almost think that Number Ten was... cursed.
The Curse of Maggie is the tale of another history, a history where our memories of the last three decades are hauntingly familiar yet subtly different, their events shaped by the decisions of many more men and women at the apex of power — but never for very long.
Thande's thoughts: First posted on AH.com. The first of the books on this list by MOI! My first 'proper' British political TL, after a couple of failed attempts. I picked the title to be deliberately controversial, of course. I really enjoyed doing the worldbuilding in this one, with butterflies stemming from John Major cracking down on paparazzi after they drive Princess Diana to suicide - which saves the careers of some public figures, but also means investigative journalists don't find out a number of abusers and scandals. And yes, the "four men and two women" line in the blurb has now been obsoleted by Events!
Making Murder Sound Respectable by Bob Mumby (er, Mumby on SLP):
"Political language… is designed to make lies sound truthful and murder respectable, and to give an appearance of solidity to pure wind." – George Orwell
The Fascist and Communist dictatorships left a bloody stain on the 20th Century, leaving tens of millions dead in their wake and a bitter taste in the mouth for hundreds of millions more when they encounter those ideologies. But what if they had never got the opportunity to do that damage?
A world where the Russian Revolution didn't produce a Communist superpower, and Hitler never found success at the ballot box. A world where the political fears and tensions of the 1930s continued, unmolested by the pressures of total global war.
In Making Murder Sound Respectable, Bob Mumby explores this world through a very different British election night, from the perspective of a group of students watching the results on television. While they worry about what kind of curry they want, events unfold in the background that reveal a glimpse of a radically different world. Communist and Fascist thugs clash in the streets, and foreign commentators pontificate on whether the Union Party has strayed too far from Oswald Mosley's principles, while far from Britain's shores the forces which have been contained for a century may yet be unleashed.
Thande's thoughts: First posted on AH.com. @Mumby 's first outing. I've often wondered what the dark side of the apparently unambiguously positive POD of 20th century wars being averted is, and here we see that there are downsides to certain violent ideologies never having been given a chance to discredit themselves. The election night framing device is great and provided inspiration to me. I just wish it was a bit longer!
The Loud Blast that Tears the Skies by Chris Nash (now writing as Katherine Foy; formerly Agent Boot on AHcom, Kato on SLP):
1908. The United Kingdom stands upon the cusp of a tumultuous century; a century of far-reaching political, social, and economic change. That change will accelerate rapidly within a few short years, as Liberals found the welfare state and reform the British constitution, and as a Sarajevo gunman plunges the world into total war.
But what if the meteor that harmlessly crashed into remote Siberian forest in the summer of 1908, had instead brought death and destruction to Edwardian London? What if the British Empire, at the height of her confidence and hubris, lost both her capital and her government? What kind of world would have emerged?
In The Loud Blast That Tears The Skies, Chris Nash explores a world where First World War generals rebuilt a shattered Britain, where blood is shed not in the fields of Flanders, but in the streets of London and Glasgow. A world where German engineering put a man on the Moon, and threatens mankind with annihilation. A world where British diaspora preach libertarianism from the American west, and where old Russian revolutionaries are fêted in exile. Told from the perspective of a British political history, it is the tale of a world whose leaders are very different from those we knew – but yet who are sometimes strangely familiar.
Thande's thoughts: First posted on AH.com. This is a great idea for a TL and a good way of constructing it - a mix of the 'leaders list' format with asides in between. I actually saw this very POD discussed by Prof Simon Conway Morris during the Christmas Lectures of I think 1995, but I asked @Kato about (aboot?) this and apparently it's a coincidence. It was also an inspiration to me for "The Twilight's Last Gleaming" which we'll cover later.
~~~
I hope you enjoyed this inaugural rundown - please feel free to ask questions here about any of these books!
Last edited: