Location
Pronouns

they/them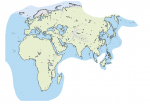 just a project of mine i've been working away at for a while now...
i just love this ridiculous, thoughtful, punny universe a lot ok
there isn't really much in the way of helpful context i can think of for anyone who hasn't read mortal engines / its related books, but.
*there's a fair amount of worldbuilding not just in the fever crumb books, but also in additional material like the traction codex. so i'm working from that in addition to the first 4
*here are the basics: some Time In The Future the earth is sent to hell and back* in an apocalyptic conflict called the 60 minute war. orbit-to-earth kinetics and atomics, ultra-effective bioweapons, asteroid-based revenge weapons & various technologies humanity would have best left untampered are all used in some kind of final conflagration between the ancients. humanity struggles on through the darkness and bleak prospects of their new world
*what. do you expect me to list out all the juicy stuff in the books.
*they're really good!!
*it's an amazing universe and i'd be liable to be doing you a disservice by not letting you discover it for yourself
feel free to ask questions or talk mortal engines or whatever!