Trying to come up with three STV constituencies for Copenhagen, I find the statistics for the FPTP constituencies for Copenhagen in OTL to be rather alarming. The map in 1887 looked as follows: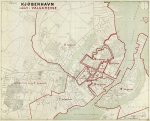 The 2nd, 3rd, 4th, 6th, 7th, 8th, and 9th constituencies (they didn't have more elaborate names than that, unfortunately) containted 2916, 2209, 1523, 1904, 1621, 2737, and 2659 voters respectively. Far from perfect uniformity, but close enough, given the time period.
Then the 1st constituency contained 7978 voters, and the 5th contained an insane 17828 voters,
more than 11 times as many as the 4th!
I have absolutely no idea what the reasoning was there.