Faces of Nordic Reunification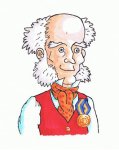 Greetings!
So I see you've met Professor Iivari? My sincere apologies...
Oh, yes, of course I know he's brilliant. One of the most clever men in the three kingdoms, the grand principality, and the four duchies, but he can be unhinged… his mind all over the place. Rather arrogant. Quite annoying.
If I may introduce myself, then, I am Johan Sigvard Qvarn, Professor of Eloquence at Stockholm Radical University and Secretary-General of the Commission on Elections at the Royal Tabulation Bureau. You wouldn't guess it from my accent, of course, but I'm actually originally English. I was actually born in Middlesex! Father and me came over in '17. Back then, the family name was
Mill
, and I was born
John Stuart
. Father was very keen on fitting in into his new country, and so Swedified our names.
You know, in my (relative) youth, I was actually quite active in the radical wing of the Cap party! I twice stood as a candidate for the Riksdag in Stockholm! Didn't come anywhere near winning, of course, but what do you expect if you're running in Stockholm on a platform of abolishing the guild system? No, no, now my days as a partisan hack are long since over, and I am just a simple, humble civil servant with an interest in the statistics of elections.
On election night, I'll be baby-sitting two young tablemasters over at the Palace of Statistics, and operate the Magnificent Suleiman as the results come in. I hope they haven't oversold you on how interesting this election night will be. For a variety of reasons, no party can gain anything near a majority of seats, and we have a pretty good idea of what will happen everywhere. It will be quite a boring event, I fear, with nothing unexpected to be expected to happen.
Well,
yes
, I suppose it kind of is a truism to say that I do not expect something unexpected to happen, but you get what I mean...
Anyway, you're still welcome to come!