THE BIG GUY getting 10% of millions
Published by SLP
Thought I'd make a separate thread for these, to keep people (myself, not least) from having to trawl through my general map thread to find them.
You're not getting a proper frontispiece or introduction though, so try to make do with a map of my progress mapping the several states up to now: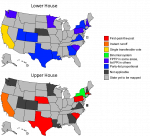 ​
Note that this is as of about 2010 - there may or may not be changes over the 2010s in one or more states.
Yes, it's going to be fun times ahead...
Last edited: