Weaseling about the digisphere
To inaugurate my existence on this forum, have some maps of Delaware's state house districts since 1898. Before 1898, the state house just consisted of seven members of each county. However, as New Castle had grown in population so as to approach the size of the other two counties combined by the constitutional convention of 1897, it was decided to give each county ten representatives and Wilmington five more. These districts, as established in the state constitution, lasted until 1964 (with the exception of Wilmington annexing border regions).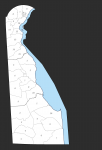 In 1964, the Supreme Court forced just about all of the states to redistrict, as the entire country had really become quite a malapportioned mess. From 1964, Delaware's state legislative districts were numbered, not by county, but evenly throughout the entire nation. Of note is that I could not quite ascertain the borders between districts 26 and 27 and districts 34 and 35, so I improvised. These improvisations have been put in a lighter color.\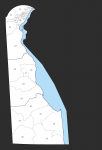 Leading up to the 1968 election, Delaware had to redistrict again. Furthermore, the number of representatives was increased to 39 from 35.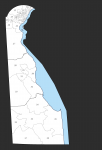 Ever since then, Delaware has redistricted after every decennial census. The following apportionment, in effect from 1972 to 1982, was the first to have districts split between Wilmington and "rural" New Castle County, the first for which the House had its present 41 seats, and was the last in which county borders were not split.