One could just have Dakota admitted as a single state and it's still a fifty-state union.
I'll confess that my initial thought, based on how much of Oregon was carved out to create the new state, was to reward it with a chunk of the thicker part of Idaho, give Washington the thinner part, and the remainder of the state be given to Wyoming (complete with adjustments to its Utah and Montana borders for asthetics's sake). Something like this: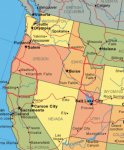 (And sorry for image quality, quick little thing done on iPhone)
But I'm almost certain that there's probably a reason somewhere why the congresses of the mid-19th Century would be dead-set against this. Eh, one can dream...